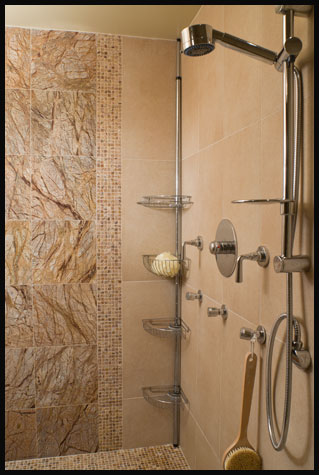 Between a Rock and a Hard Place continued
Showering in the wheelchair was made possible by reversing and enlarging the existing shower stall previously located in the adjacent ensuite. Therapeutic body sprays and a hand-held shower enhance the showering experience.
With space at a premium, traditional door solutions were not viable. Frosted glass panes were added to this fabulous antique barn door, which was mounted on industrial sliders outside the washroom to ensure privacy, while adding an historical touch. This room is a contrast of dark and light, rich wood and frosted glass, textured porcelain and polished granite tiles. The granite tiled vanity and feature wall in the shower is trimmed with complimentary mosaic tiles, which are repeated as banding on the floor, and served as the inspiration for the colour scheme.
Testimonial
Dear Shaila,
As you know, moving from our house into our condo was traumatic and we were faced with many obstacles. You helped us plan for all of those physical challenges, which were both new and scary to us. Tho' we couldn't move the concrete walls and shower drain, you managed to create super functional and sophisticated spaces with great traffic flow and easy access. You stepped up to the plate, took over completely and made a terrible time for us so much better.
Gratefully,
Jen and Meyer