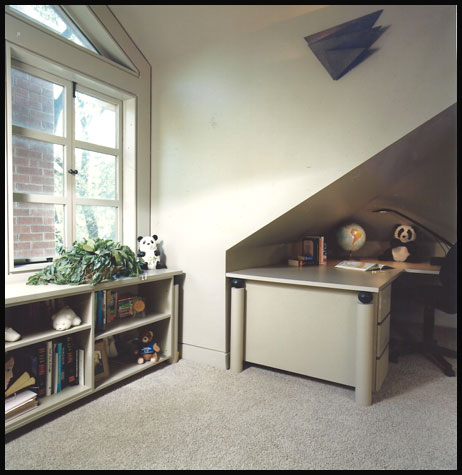 East Meets West continued
This upper-storey features a custom L-shaped laminate desk and book case under the windows. Although the space is simple, the detailing around the windows and on the furniture sets it apart. Wall-to-wall closets, outfitted with drawers, single and double hanging line the wall opposite the panels on the main floor.
Testimonial
Shaila,
How can I ever thank you for taking my love of hair, fashion and combining different shapes, and coming up with this dream-come-true room for me. When we started our renovation and you convinced my dad to give me part of his third storey man-cave for my desk area, I had no idea how it would work. His ceiling had beams, and I just couldn't see how that would fit into my vision of a girly room. You assured me that my space would be sleek, sophisticated and feminine. When I returned from camp, and saw the finished product, I felt like the luckiest girl alive (which I am!) I appreciate all of the details and the way that you worked in all of the shapes. I have decided to go to design school when I am older.
Love Sheri.