Staging Thornhill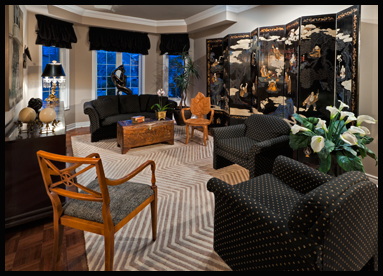 It is a much proven fact that homes that have been properly staged, sell faster and for considerably more money than their unstaged counterparts.
Although many real estate agents have been trained in the basics of staging a house, Montdor Interiors approaches the project with the goal of creating a living space with broad appeal for potential purchasers. With 38 years of experience in the design, renovation and staging business, Shaila Gottlieb, knows how to present your home to attract the purchasers you need. Our staged homes in Thornhill and the GTA have sold for tens of thousands of dollars more than even the most savvy and optimistic agents had predicted, prior to the staging process.
The extremes of home staging range from the simple process of improving traffic flow and creating balanced, harmonious,inviting spaces, to editing or replacing furniture and updating bathrooms and kitchens. The goal is always to enable potential purchasers to imagine themselves living comfortably in your space. When there is too much or too little furniture, or it is incorrectly situated, the visual message is that space and storage are lacking. As a result, buyers disregard a house, which, properly staged, would have been perfect for their needs.
Purchasers will typically lower their offer to compensate for their approximation of the cost of work to be done, plus an inconvenience factor.
The old saying "you only have 1 chance to make a first impression" is so true when it comes to homes. To that end, we also get down and dirty to create curb appeal, with relevant, all-season landscaping that will welcome perspective purchasers any time of the year.
"As a Thornhill based Designer I understand the market. I have the ability to transform your house into a home that is set apart from the others. In consultation with you and your real estate agent, we will devise a plan to maximize your selling price and minimize the time it takes to sell your property, at a price you can afford.
Sound expensive? It's not!!! Does it go against human nature to invest money into a property you are leaving? Yes! ...but if you are ready to realize thousands to tens of thousands of dollars in additional revenue from the sale of your home, listen to the voices of experience, the voices of satisfied clients who have staged their home with Montdor Interiors."
" Dear Shaila,
Thanks for your insight into the market. You were instrumental in staging my three properties, helping me to realize a HUGE profit. Even my real estate agent was shocked at how our renovations and staging added to the value of the homes. As soon as I return from Europe, we're starting on my house! "

--Fondly, Vera Polyenkova
" Dear Shaila,
We knew we could count on you to update our bathrooms and other parts of our house to maximize the selling price. You did a marvelous job of designing, implementing and supervising while we were away on vacation. Your honesty, integrity and correct assessment of the market allowed us to achieve the desired results at considerably less money than we had budgeted for. We look forward to a continued relationship with you. "

--Marilyn Syrtash
" Shaila,
We are still reeling with shock at the price we just got for our townhouse. When we gave you the go ahead to stage our house, we never in our wildest dreams thought we'd get OVER $ 40,000 MORE than our agents HIGHEST ( and unattainable in his opinion) selling price. The bidding war was due to the modest upgrades that we made. Our house looks fabulous. Why didn't we do this years ago, so that we could have enjoyed it??? We now have some money to renovate our new place so take a rest til we close! "

--Thank$$$ $o much, Jennifer and Meyer
" Dear Shaila,
You transformed a hard-to-sell property into a very saleable home on a shoestring budget. You made lots of $$$ for the seller. Thanks several thousand! "

--Cheryl Lefton,Sutton- Granite Hill Realty Inc.
" Shaila,
Thanks for assisting me in improving the salability of several properties, by staging them prior to listing. "

--Nat Stark, Remax Realtron Realty Inc.