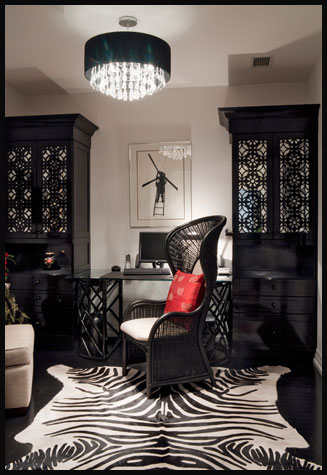 It's Not all Black & White
It's mostly black and white... with a sensational splash of red!
The inspiration for this dramatic home office came from a carved burgundy screen, which we found on sale. The panels were cut to size, painted black and mounted on the black, mirror-backed doors of these custom armoires, which provide storage for office supplies. The printer is within easy reach, as it is cleverly housed in an open shelf on the side of the right hand cabinet. The bottom half of the unit consists of box and filing drawers. Elegant and regal, the tropical high backed chair adds to the impact. The fine textured zebra printed cow's hide, and nubby seat and chair fabric play off of the sleek ebony-stained floors.
Testimonial
If you are looking at your house, feeling that something has to change, but you aren't sure what to do about it, call Shaila. She is creative, enthusiastic and delightful to work with. She will guide you and work with your taste, budget and existing things to your satisfaction. She follows through on every detail.

Helena Fine